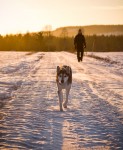 I visited a friend on Wednesday. When we sat and drank a cop coffee, I discovered a framed image on the wall. It's the image the on the left.
The photograph was taken about a week before christmas in 2007. Stefan wanted a framed picture of him self together with his dog, Iza. Usually I feel uncomfortable to photograph people, especially strangers. Stefan and I  have been friends a long time so it was no problem.
The image is one of my favorites and it's looks best mounted and framed.