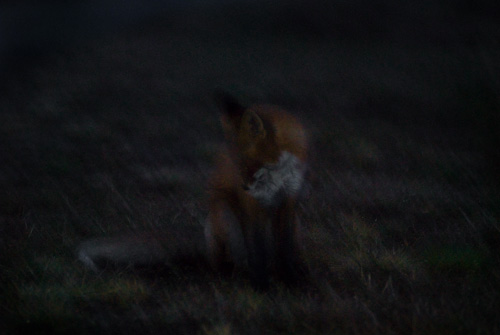 I met a fox in the middle of October 2007 at Åsele golf course. The sun had disappeared and the mist danced across the grass.
I sat on my bike and was on my way home when I noticed the fox in the distance. The light was pretty good at that time. I lured him, and after half hour or so the fox where just a few feet away from me. It may have been 10 minutes or 1 hour, I became totally immersed in the fox.
Autofocus was out of the question in the darkness. At ISO 2000 I got 1/2s, f2,8. I also used the built-in flash at -2 EV. I did not get any sharp images with 1/2s and a playful fox. But I think the result was successful.
At ISO 2000 you get a lot of noise from the Nikon D200. In Photoshop I did some dogding & burning and adjusted the curves and contrast.